My Dad
Dwayne L Blackman
Civilian Conservation Corps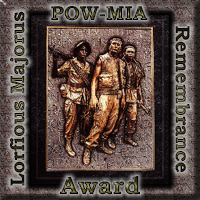 My Dads family, as many others at the time, didn't have much money. There were ten children in the family and when Dad and some of the other boys were in their teens, they went to live and work at other peoples farms, earning room and board and $2.50 a week. Times were tough and the boys did anything they could to help out the family. The Civilian Conservation Corps was a way for many young men to work and earn money.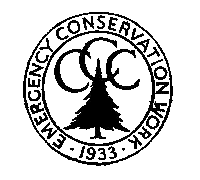 Dad joined the Civilian Conservation Corps, Company 2723 at Red Oak, Iowa on July 7, 1939. Besides guard duty, he worked on building levees on area waterways. He didn't have the money to buy a uniform, so his next door neighbor bought him two pairs of pants and he dyed them to the army green. He made $30 a month and sent $22 of it home to his parents, and keep the rest for himself.
He told me he pushed many wheelbarrows of dirt while he was there, more then he cares to remember, but the work they did then still helps save homes and farmland from flooding even now. Dad remembers a camp Director that was from Poland, a rough talking man that was always telling them about how his country was taken over by Germany and all his family was still there, wanting them to join the Army and fight the Germans to free his homeland.
Also at the camp at different times were two of his brothers, Richard and Bob. Before dad left the camp, Bob joined the Army and fought in the Pacific. Although the two men didn't know each other at the time, Uncle Bob and a man named Pete Rodich were fighting in the same divison one hill apart in a big battle in the Philippines, where I beleive they were both wounded, receiving the Purple Heart. Pete would later marry Bob and Dad's sister, Lois Blackman. Richard joined the Navy after dad left camp, also serving in the Pacific.
Dad was Honorably Discharged from CCC on Feburary 3, 1941 to enlist in the Army National Guard of Iowa.
* A special thanks to my cousins, Julie Leo and Mike Sizer.
Keep sending those corrections and info.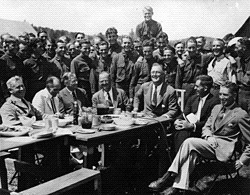 In 1933, President Franklin Roosevelt created the Civilian Conservation Corps to put unemployed young men to work in forests, parks, and range lands. The Army ran the camps and the Dep. of Interior and Agriculture would be responsible for work projects. They were paid $30 a month, with most of it going to their family. Room and board and tools were provided and the enrollee was expected to work a 40 hour week and follow camp rules.

DAD'S LINKS
Back To Main Page
Civilian Conservation Corps
Camp Claiborne
Europe
P.O.W.
Scan's from his POW Logbook
Home Again
OTHER LINKS
In Rememberance of Manuel Puentes MIA
Just a Little Walk In The Woods
Jeff & Sheri's Place