My Dad
Dwayne L Blackman
Europe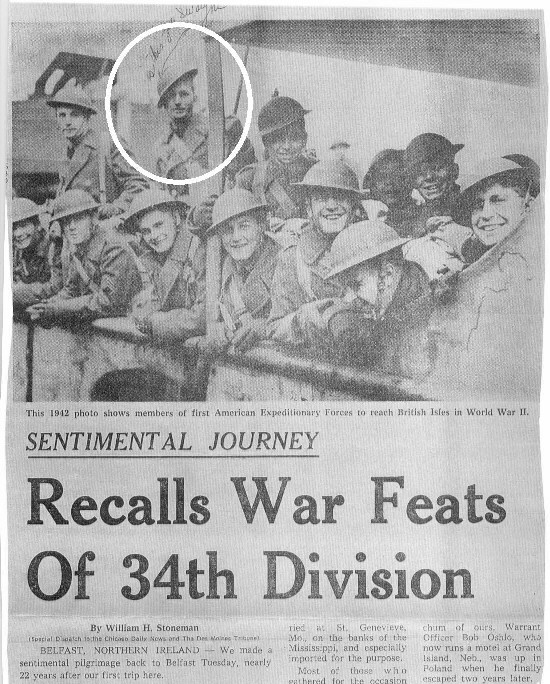 News clipping from Des Moines Tribune (1963)
In 1963, my Dads sister saw this article in their local newspaper and sent it to him. The photo was taken after they arrived in Belfast in March of 1942. Although we can't prove it, I beleive it is my Dad in the picture.
On Feb. 17th, 1942, Dad left the States for Europe. They arrived in Belfast, Northern Ireland on March 1st. The 133rd Infantry, 135th Infantry, 168th Infantry, and 151st Field Artillery made up the 34th Division, and was the first American division to land in the European combat zone. It was a National Guard divison drawn from Iowa, Minnesota, and North and South Dakota, and spent 517 days in combat, a record for the U.S. Army in World War II. They fought bitter and costly battles in Tunisia in the winter of 1942-43 including Sened Station, Faid Pass, Fondouk and Hill 609 (Dad was captured at Faid Pass).
In 1942 the 34th became the first US Army division to be sent overseas in WWII. They were also the first US Army division to enter combat in the European Theatre of Operations in WWII ( November 1942 - North Africa). Battle casualties for the 34th Division at the close of WWII were officially counted at: 3737 killed, 14,165 wounded and 3,460 missing in action - a total of 21,362 battle casualties. In World War II soldiers of the 34th were awarded: 10 Medals of Honor, 98 Distinguished Service Crosses, 1,052 Silver Stars, 116 Legions of Merits, 1,713 Bronze Stars, and 15,000 Purple Hearts. German soldiers in Italy referred to the American soldiers who wore the familiar patch as "Red Devils" or Red Bulls". The latter name stuck, and the Division soon adopted it officially, replacing its WW I name of the "Sandstorm Division". The official slogan for the 34th Infantry Division is: Attack! Attack! Attack!

DAD'S LINKS
Back To Main Page
Civilian Conservation Corps
Camp Claiborne
Europe
P.O.W.
Scan's from his POW Logbook
Home Again
OTHER LINKS
In Rememberance of Manuel Puentes MIA
Just a Little Walk In The Woods
Jeff & Sheri's Place