My Dad
Dwayne L Blackman
Home Again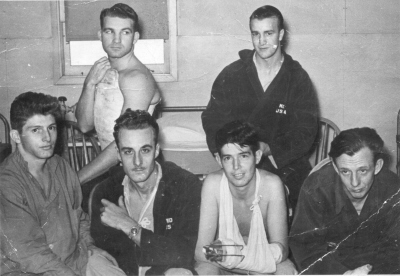 Dad (lower left) and other solders at Fitzsimons General Hospital after the war.
Although Dad faired better then others as a POW in Germany, he never would talk much about what he experenced, and only to a few close people. He shared little with me about his time in the camps, and never anything before he was captured. My heart goes out to the families of soldiers who never came back. They have paid the supreme sacrifice for our freedom, and it is a debt we can never repay.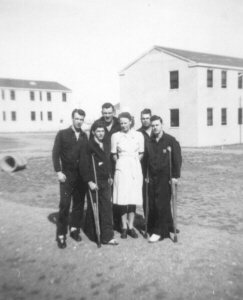 Taking a nurse out for exercise
Dad married my Mother in July of 1946, and was Honorably Discharged from the Army in April of 1947. He went to school and learned the machinist trade. He retired in 1984 and they celebrated their 50th Wedding Anniversary in 1996.
After Mom passed away in December of 1997, Dad moved in with us. It has been a sad time in his life, loosing Mom, and his ability to get around like he used to, not being able to do the things he used to do. It was an honor for me to make his last few years with us as comfortable as possible. Dad passed away in November of 1999, and although we miss him, we are glad he is now at peace.
He has not only given me life, he has, with so many other Proud Americans, fought for my freedom.
Dad, I Salute You.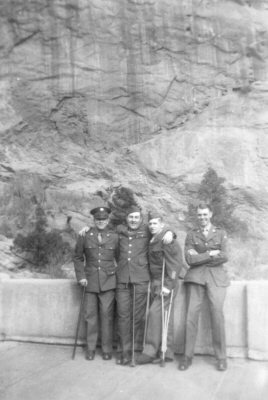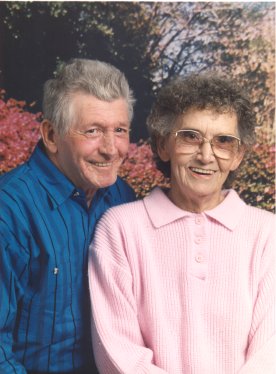 Please visit the POW/MIA Web Ring to visit other sites like this and to find out about the 2,000 plus soldiers still held on the roles as MIA in Vietnam. My Dad came back home, but there are many families that may never know the fate of their loved ones. It is an issue that will not go away, that we will not turn our back on, as our government has.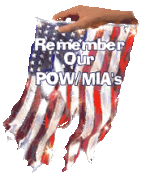 DAD'S LINKS
Back To Main Page
Civilian Conservation Corps
Camp Claiborne
Europe
P.O.W.
Scan's from his POW Logbook
Home Again
OTHER LINKS
In Rememberance of Manuel Puentes MIA
Just a Little Walk In The Woods
Jeff & Sheri's Place